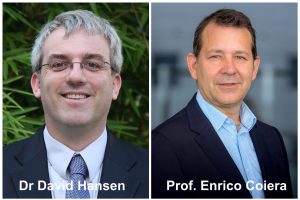 Did you see us at HIC 2019 from 12-14 Aug 2019? Our Chief Investigators played key roles and/or delivered keynotes and our Fellowship by Training candidates presented their work and won awards.
Dr David Hansen, who is Chair of HISA delivered an Opening Plenary on Day 1, chaired a Masterclass – Getting smart about FHIR, chaired a HIC Special Focus group – Digital health with precision: Enter the world of genomics and delivered a Closing Plenary on Day 3.
Professor Enrico Coiera delivered the keynote in the Data and ethics for better health outcomes session: People, ideas, machines. And in that order – Bringing AI into the health system.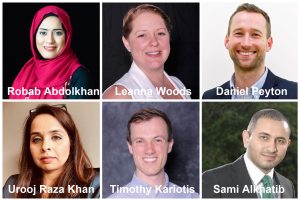 Our Fellowship by Training (FbT) candidates presented six papers and one workshop as part of the main program and gave six PhD presentations in two dedicated lunchtime Annual Colloquium sessions.
FbT candidate Robab Abdolkhani, University of Melbourne, chaired the Workshop – Patient generated health data and wearables: What is the missing link in clinical care?
FbT candidate Leanna Woods, University of Tasmania, presented a paper titled: Co-design of a mobile health app: Perspectives from the team. And at the HIC Nursing Informatics Australia Conference, delivered an Opening Session presentation titled: Learn as if you were to live forever.
FbT candidate Dr Daniel Peyton, Murdoch Children's Research Institute, presented his paper titled: Do digital health interventions improve mental health literacy or help-seeking among parents of children aged 2-12 years? A scoping review.
FbT candidate Dr Urooj Raza Khan, Charles Sturt University, presented her paper titled: The My Health Record system impacts on patient workflow in general practice.
FbT candidate Timothy Kariotis, University of Melbourne, presented his paper titled: Mind the gap: Information sharing between health, mental health and social care services.
FbT candidate Sami Alkhatib, University of Melbourne, presented his paper titled: Privacy in Aged Care Monitoring Devices (ACMD): The Developer's Perspective.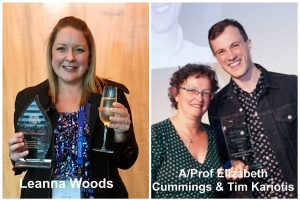 We were delighted that candidate Leanna Woods won the NIA Moya Conrick Prize and HIC Joan Edgecumbe award and candidate Tim Kariotis won the Branko Cesnik Student Award. The Fellowship by Training Program is supported by the CRE in Digital Health.
Aug 26, 2019