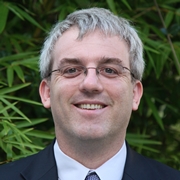 Dr David Hansen
CEO
Australian e-Health Research Centre, CSIRO
Contact Details:
T: +61 7 3253 3600
E: david.hansen@csiro.au

Bio
CID: Dr David Hansen has been CEO of CSIRO's Australian e-Health Research Centre since 2011, managing and funding a team of over 80 scientists and engineers and higher Degree Research (HDR) students. He has been Research Director of the e-Health Research Program for CSIRO Health and Biosecurity since 2014. David is also the Queensland State Hub lead of the Australian Alliance for Artificial Intelligence in Health (AAAiH). Dr Hansen is currently the Chair of the Board of the Health Informatics Society of Australia (HISA), having been on the HISA Board since 2012. He has served as Scientific Chair for the Health Informatics Conference in 2010 and 2011 and was conference chair for Big Data in Healthcare and Life Science in 2015. He has worked across bioinformatics and health informatics for more than 20 years.
 
Qualifications: MBA (University of Queensland, 2011); PhD (Australian National University 1995); BSc (Hons) (University of Queensland 1990); BSc (University of Queensland, 1989).
Address: Australian e-Health Research Centre, 65 Brockway Rd, Floreat WA 6014