The Australasian Health Informatics Fellowship Program (AHIFP) was established in 2017 as a training pathway to ACHI Fellowship. It is the first program of its kind in Australasia and was established in partnership between the Australasian College of Health Informatics and the Centre for Health Informatics, Australian Institute of Health Innovation, Macquarie University
The AHIFP is designed to prepare individuals for leadership roles in the Health Informatics workforce and to address the current demands for experienced and qualified Health Informatics specialists from various disciplines.
About the program
The Fellowship Program is four years full time in duration and includes:
A health informatics research doctoral program at an Australasian University (typically three years)
Two paid Health Informatics 6-month work placements
Supplementary learning.
On completion of the Fellowship Program candidates will hold a PhD academic qualification, have a portfolio of work and established industry contacts, and will be awarded Fellowship by the Australasian College of Health Informatics.
Note: the above is based on full-time, there is also a part-time equivalent.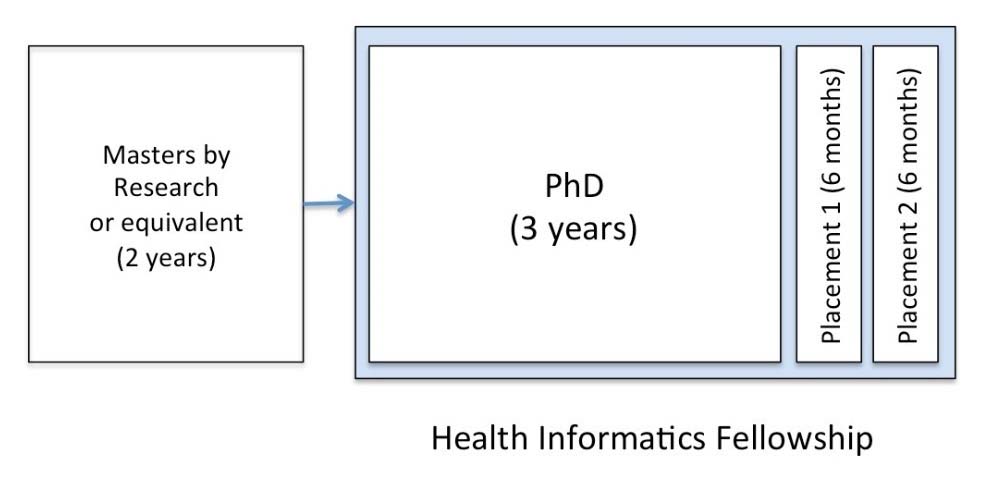 Paid industry work experience
Students will be required to complete their paid work placements with a government department or agency,  non-government organisation, hospital, industry partner and or university. Work placements are six months full time (or part-time equivalent) and can be completed from the second year of your PhD subject to ACHI approval or preferably after you have submitted your PhD. Students will be matched with a suitable host organisation based on their interests, skill set and experience and the benchmark salary is AUD|NZD $50,000 plus superannuation
Benefits for students
Students participating in the Fellowship Program will:
Receive a salary for each work placement (paid by the host organisation)
Obtain industry work experience allowing them to build a portfolio of work
Have an opportunity to develop their leadership skills
Create a future job network
Be awarded Fellow status by ACHI on successful completion of the program.
Benefits for organisations
Organisations that provide student work placement opportunities:
Will have an opportunity to expand existing project teams working on health informatics initiatives
Can create and deliver new health informatics projects based on the expertise of students
Can develop future talent management strategies based on student performance and capability
Will actively contribute to the development of leaders in the health informatics industry
Fellowship Program Governance Board
The Fellowship Program will be steered by a Governance Board which is made up of the ACHI Council plus representatives from the Health Informatics academic community and industry.
Selection criteria
Applicants will be selected on the basis of their application, which will include:
A research topic relevant to the field of Health Informatics
A commitment to, and interest in, advancing the profession of health informatics through relevant work and/or academic activity
A willingness to adhere to the ACHI Professional Code of Conduct
Where competition for Fellowship by Training positions exist, preference will be given to projects and placements involving Fellows of the College.
Applications
Applications will be accepted all year, with eligible candidates being invited to attend an interview in June or November. A one-off non-refundable Application Administration Fee of AUD $250 is payable at the time of application.
To apply visit the ACHI website.
For more information
Visit the ACHI website or contact the Fellowship Program Manager  frances.cook@mq.edu.au
The AHIFP is supported by

NHMRC Centre for Research Excellence in Digital Health