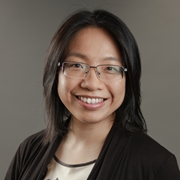 Dr Annie Lau
Australian Institute of Health Innovation
Macquarie University
Contact Details:
T: +612 9850 2436
E: annie.lau@mq.edu.au

Bio
CIJ: Dr Lau leads the Consumer Informatics team at the Centre for Health Informatics, Australian Institute of Health Innovation, Macquarie University. The Randomised Control Trials (RCTs) she has led have demonstrated a doubling rate of preventive activities through consumer e-health systems. She is a co-inventor of the Healthy.me technologies. She was commissioned to review evidence on mHealth technologies in 2015 by HealthDirect. She has been invited chair or a plenary speaker at 13 national and international conferences. Dr Lau has been nominated five times for best paper awards, including at the World Congress in Medical Informatics (2011, 2013), and the American Medical Informatics Association in its Informatics Years in Review (2012).
Qualifications: BE (UNSW, 2001); PhD (Health Informatics, UNSW, 2007).
Address: Centre for Health Informatics, Australian Institute of Health Innovation, Macquarie University Level 6, 75 Talavera Road, North Ryde NSW 2113