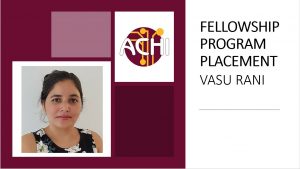 ---
The NHMRC Centre of Research Excellence in Digital Health (CRE) are pleased to announce that CSIRO has joined the ACHI Fellowship by Training Program as an accredited host organisation.
Fellowship candidate Vasu Rani has been awarded a six-month paid work placement within the Mobile Health Systems team, which is a part of CSIRO's Australian e-Health Research Centre. Vasu specialises in telehealth and health technology assessment and will be working across several program and initiatives that will allow her to utilise and develop her technical and research skills.
For more information see the CSIRO media release.
If your organisation would like to learn more about what is involved when offering a work placement, please email the Fellowship Program Manager fellowship@achi.org.au The Fellowship Program Manager is provided by, and supported by, the CRE.
July 3, 2018